Past Events
---
Ambassador Wins at the Seattle Wine Awards!
Our 2012's win big time at the Seattle Wine awards. See our amazing results are listed below!
2012 Plenipotentiary Cab – DOUBLE GOLD
2012 Grenache – DOUBLE GOLD
2012 Attaché Grenache – DOUBLE GOLD
2012 Envoy – DOUBLE GOLD
2012 Syrah – DOUBLE GOLD
2012 Diplomat – Silver
Ambassador Wins Again!
Our 2011 Estate Diplomat took home the trophy at this year's Vine Arts at the Chihuly Garden and Glass. The event featured 7 mystery wines that were blind tasted and then voted on by event attendees. Much to our delight we came in first! Winning at this type of competition means the most to us because its the consumers who decided the outcome.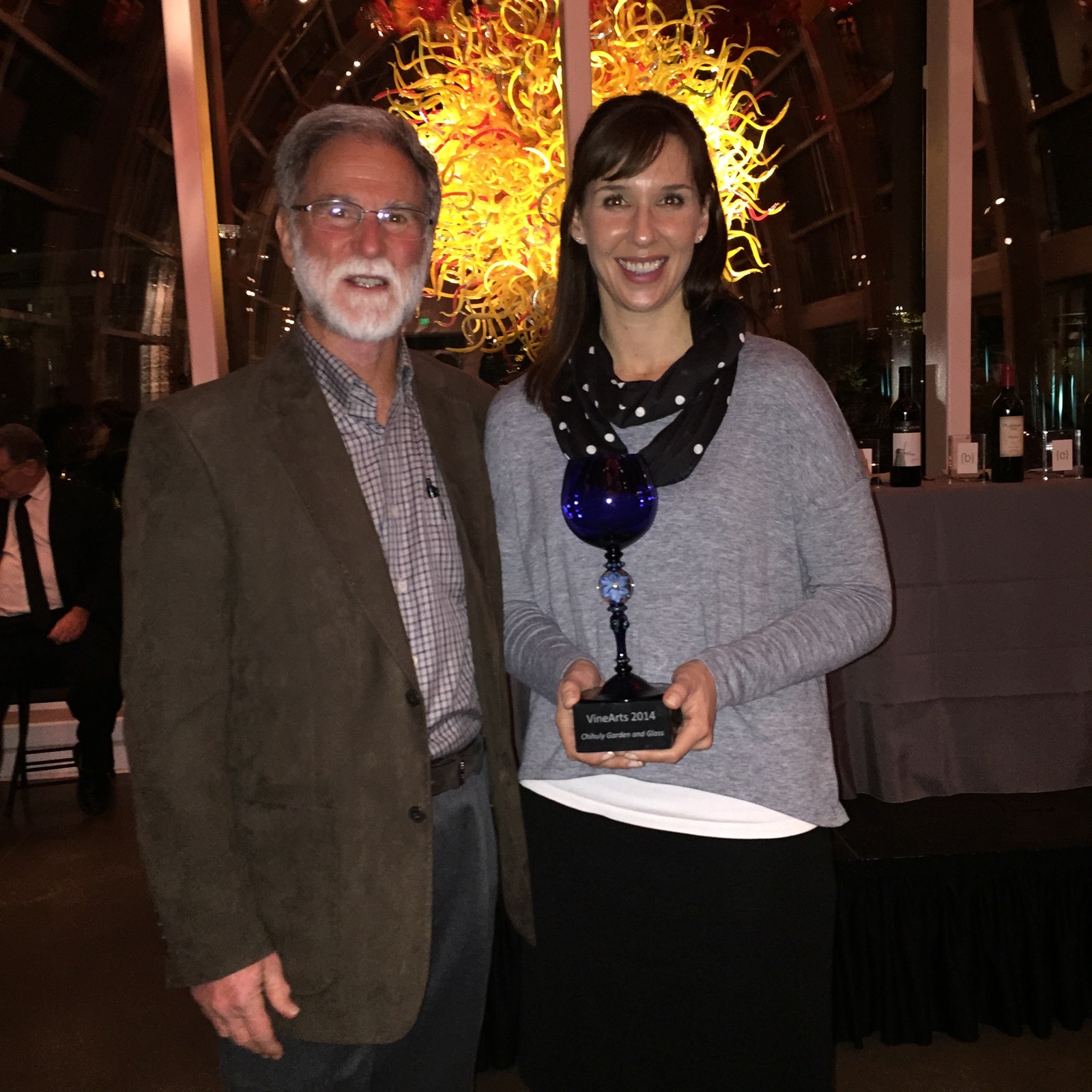 Event Emcee, Bob Betz with Ambassador's Allison Engman and the Vine Arts trophy.
Awards!
Our 2010 Estate Cabernet Sauvignon just took home a Double Gold Medal and won Best in Class at the Great Northwest Invitational Wine Competition! Additionally, our 2011 Estate Plenipotentiary Cabernet Sauvignon and 2011 Estate Diplomat both won Silver Medals. Check out this link to see the complete list of winners and to learn more about this uniquely Northwest wine competition.
Woodinville Tasting Room now Open!
Come and visit us at our new wine tasting facility in Woodinville, WA. We are located in the warehouse district right next door to Patterson Cellars and across from Sparkman. Our hours are 1-5pm Saturday and Sunday.
19501 144th Ave NE, Suite D-500
Woodinville, WA 98072
Ambassador wins Double Gold at the Seattle Wine Awards!
We are thrilled to announce that our 2011 Estate Plenipotentiary Cabernet Sauvignon and our 2011 Estate Diplomat won Double Gold at the 2014 Seattle Wine Awards. In addition, our 2011 and 2010 Estate Envoy blend as well as our 2011Estate Syrah all won Gold! To view all of the results visit the Seattle Wine Awardswebpage.
We could not be more thrilled with the results!